Something in the universe was in my favor to allow me to work with such wonderful clients on a site of this scale and beauty for my first significant design project.
For this I am deeply grateful.

A love of exploring wild places had brought Peter and Robyn to Tasmania many times over the last 30 or so years. The island state had got under their skin and a few years ago they decided to buy a property on a steep hill side above Kettering with magnificent views from Mt Wellington to the north and southern Bruny Island to the south. Their first move was to permanently protect 50 ha of the mostly bush block by committing it to a conservation covenant. The 30 ha outside this comprised more native bush and two steep cleared ridge lines. It was here that they wanted to build a passive solar house that would provide sanctuary and warmth for themselves, their kids and  newly arrived grand kids.
Given the isolated position of the site and the fact that Peter and Robyn were very serious about making their new home as sustainable as possible, going off grid and being as self sufficient as possible greatly appealed to them. fortunately they had an ideal property to make this a reality. The house would collect all its own water, treat its own waste through composting toilets and reed beds and be powered by a 4kw solar system complimented by a micro hydro generator over the winter months when the small creek is running.
From the beginning of this project we had the advantage having time to work with. We spent a long time talking about what they were trying to achieve and what they hoped the house would be for them.  They had some clear ideas about things they wanted and also a few things that they did not want and lots of unknowns in between. Over the first few months we developed a brief together to define what we were trying to achieve with the end result.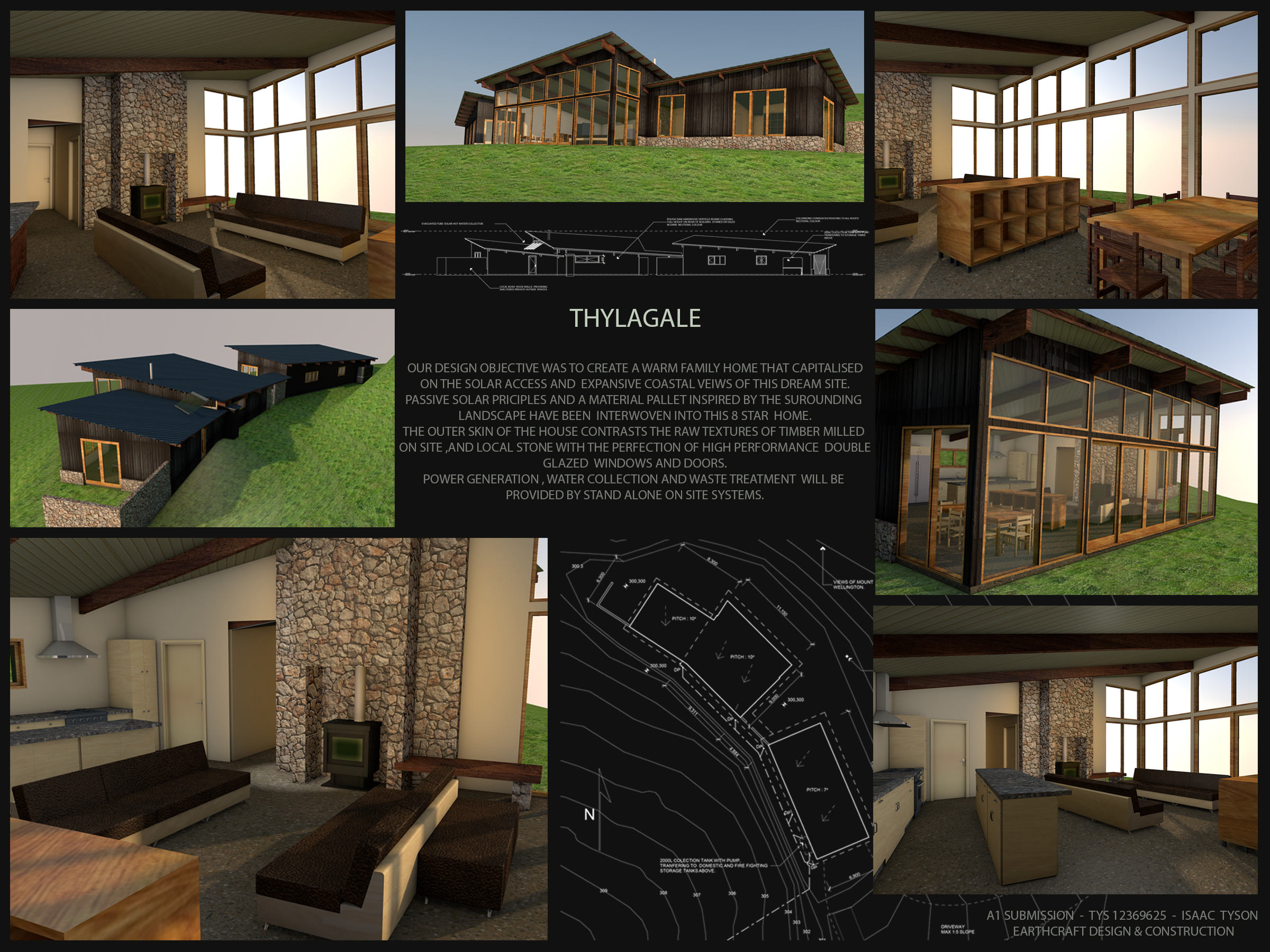 The concept plans evolved over around 18 months as sketches and floor plans were stretched, chopped, combined and re-imagined to find the best fit for all ingredients and a shape that could be wrapped around the steep grassy ridge line that was to support  and hopefully embrace this new part of the landscape.  As things settled and the design started to solidify we modeled the house in 3D to test how well everything worked together and how the house sat in it's location. At the point where we were satisfied that the design was meeting the brief the project was documented ready for planning approval.
Word of mouth brought Elise and Ian Simondson of bespoke builders Skookom to the project with their dedicated and skillful team of carpenters and subcontractors. Design detailing and engineering were incorporated and the design went to local draftsman Greg Tilley to prepare the final documentation for the building permit. Throughout the technical and complicated construction process Ian and his team demonstrated a truly impressive attention to detail and care for what they were creating. This has ensured that Peter and Robyn have a beautiful end result that displays some wonderful craftsmanship.
The house has been featured in the Spring 2016 issue of Sanctuary Magazine
Click here to download the Sanctuary article
"We knew it was a gamble choosing Isaac over the experienced and highly regarded architects whom we also interviewed but the gamble paid off handsomely. 
He accommodated all our wishes but implemented them in a style we could never have dreamed of ourselves. 
We could not be happier with the outcome."   –   Peter and Robyn Tuft.
Image credit – Jonathan Wherrett
Image credit: Jonathan Wherrett